Top five tips for a safer Christmas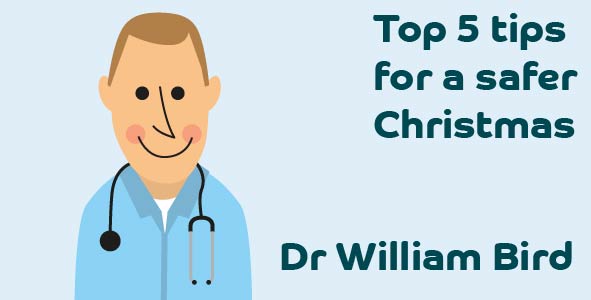 Christmas is coming, but it is certainly going to be different this year. With all areas of the country in varying different levels of restrictions, we will all need to be thinking carefully when making plans for the festive season.
Regardless of which tier, area or country you are in, there are some simple things you can do to keep you and your friends and family safer during the Christmas break.
1. Think carefully
Our natural instinct is to want to spend the festive period with our loved ones, but this year, we all need to think carefully and weigh up the risks involved, particularly if our friends and family are elderly or have underlying health conditions. If you feel that it's too risky to hold a get-together now, why not postpone the festivities and have a festive gathering in the spring instead?
2. Keep your homes well ventilated, but warm
To spread well, viruses love nothing better than a warm, cosy, unventilated room with lots of people in close proximity. Make sure you have good air circulation, and a good supply of fresh air, whenever you are gathering with others indoors.
Don't forget to ensure elderly neighbours or relatives have their heating at 21C because if they get cold (when the tip of their nose is cold!) they are much more likely to get chest infections.
Despite the vaccine being available, just 2% of the population will be vaccinated by the end of this year, so carry on with washing your hands regularly, wearing a mask, and try and keep your distance from those who are not in your usual household bubble.
3. Get outdoors
Getting outside for a walk helps your mood, improves your physical fitness, and boosts your immune system. It also reduces the risk of virus transmission. If you're meeting friends or relatives – particularly those who are elderly or clinically vulnerable – why not wrap up and go for a short walk together, or play a game, such as tag, rounders or open-air charades rather than spending time indoors?
4. Make a plan
Seeing relatives may involve travelling a significant distance from home, so have a plan ready in case you have to make last minute changes. From having some food ready in the freezer to considering alternative places to stay – think carefully about what you and your family will do if you need to suddenly cancel due to illness or COVID-19 symptoms.
5. Have a digital Christmas
Of course, the safest way to celebrate Christmas 2020 with relatives and friends, especially those who are vulnerable, is to do it online. We've all become accustomed to using Zoom and Facetime to chat this year. Meeting virtually rather than face-to-face allows you to
increase the number of friends and relatives you 'meet', to make this a more sociable Christmas.
Here at Intelligent Health, we have really enjoyed bringing Beat the Bug to you over the past year, and we hope you have enjoyed it and found it useful. Thank you for your support and for getting involved so enthusiastically.
As 2020 draws to an end, we will be closing Beat the Bug and focusing on launching the next phase of Beat the Street games which start in February 2021 across the UK. Keep an eye on our Beat the Street website and social media pages to see when we'll be appearing on a street near you!
We hope you and your loved ones have a very merry, and healthy Christmas and a happy new year.
---