Nine reasons why I don't cycle to work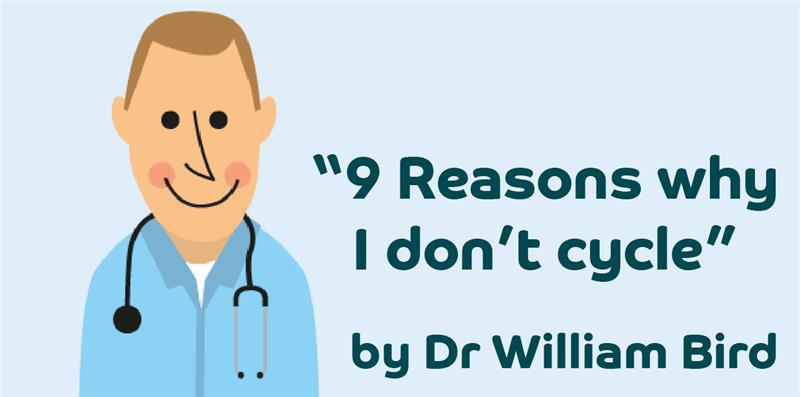 In his briefing this week, Prime Minister Boris Johnson urged us back to work if we can't work from home and encouraged workers to embrace active travel where possible.
Dr William Bird set up the first Beat the Street game in 2010 to encourage people to walk and cycle more and to get more active, so has heard many of the reasons people give for not wanting to get on their bikes.
The top reasons that people don't cycle:
1. "I don't want to arrive at work all sweaty"
We hear this reason more than any other and agree that the thought of turning up to work all sweaty isn't ideal, and even if you do have a shower at work, you then have to bring in a towel, shower gel and all the other random bits of equipment, so Dr William Bird suggests just leaving home earlier and cycling at a moderate speed. He says: "In most other countries, you'll see people wearing their everyday clothes, and cycling at a steady pace. It seems to be a distinctly UK thing where people dress in Lycra and ride quickly! Take it steady, and you don't need to get too sweaty." Some cyclists recommend a leather saddle which reduces sweat, plus paniers for your rucksack.
Also, keeping your tyres pumped up will reduce effort. You could even consider an ebike or hybrid bike so you get all of the benefits of cycling, but you also get assistance with going up hills.
2. "It takes too long"
The average commute is about four miles. If you cycle at a sedate speed of 10 mph, that means it will take just over half an hour to cycle five miles – which is usually faster than driving and without the hassle of finding somewhere to park.
3. "It's too dangerous"
We've all heard stories about the dangers of driving in busy towns and cities, but don't let that stop you cycling. Statistically, the risks of cycling are low and there a substantial health benefits of cycling. Sit down with a map and plan ahead to see if you can find an alternative route that might not be as direct, but might be quieter. Have a look at websites like Cycle.Travel where you can try out a different route avoiding main roads and also, use the 'cycle' option on Googlemaps when looking for routes. Don't forget to invest in a helmet and stay alert and engaged with an eye on what's around the corner.
4. "I haven't got a bike"
If you have an old bike in the shed that needs some attention, have a look locally for a specialist such as Dr Bike who can offer a bike refurb service or MOT to ensure it's safe. Some councils offer this service for free.
For the bike itself, check out eBay, Gumtree and social media selling sites, or even Freecycle for a …free cycle… as there are often secondhand bikes available. Also, have a look at the government's Cycle Scheme where you can buy a new bike and certain accessories tax free.
5. "I'm not confident about riding my bike"
As with many things, the more time you spend on your bike, the more confident you will be, so perhaps you could ask a family member to cycle with you a couple of times on quieter roads before heading out to work? In England, the old cycling proficiency course has been updated and is now known as now known as Bikeability or Bikeability Scotland and is open to all ages and levels. Have a look at Youtube for tips on bike maintenance and pumping up tyres so that if anything happens, you'll have the peace of mind to know you can fix it on the go.
6. "The British weather…"
Dr Bird worked at the Met Office prior to setting up Intelligent Health and his research reveals that statistically, there are only 12 days a year when it will be raining during the commuting hours.
In Scotland this will be slightly more but that still means that on average 1-2 days a month will be wet. In many places there has been hardly any rain at all for two months.
7. "I have a laptop to carry"
In an increasingly mobile world, many of us have to carry a laptop to work, but this doesn't mean you can't cycle. You could add a pannier to your bike, or a good quality padded rucksack will protect your PC. You could consider wrapping the contents in a bin bag for an extra layer of protection.
8. "I have to take children to school/nursery"
If they're old enough to learn about the dangers of traffic, then they can cycle with you if your school or nursery will let you leave the bikes there for the school day. A helmet is highly recommended for children and you should cycle behind your children so you can keep an eye on them.
There's more info on the Sustrans website on how to encourage your children to cycle safely
If your children are too young to cycle on their own bike, then could they scoot alongside you or could you put them on the back or front of your bike or in a trailer? Alternatively, you could walk your bike with them before dropping them and then cycling to work.
9. "I will breathe in more pollution when cycling"
You may think that cyclists would be vulnerable to the pollution emitted by exhausts, but in fact, researchers at Kings College London have measured greater pollution levels in cars than on a bike because the pollution gets inside the car and then remains there. You can also choose greener paths using Sustrans National Cycle Network
Dr Bird adds: "It's usually the first bike ride that's the most difficult, but by the time you have cycled to work a few times, it becomes hugely enjoyable and a great way to start the day.
"Not only is cycling great for your cardiovascular and mental health, but your wallet too, as you'll save at the fuel pump, on parking charges and wear and tear on your car."
---