How to get started in BMX!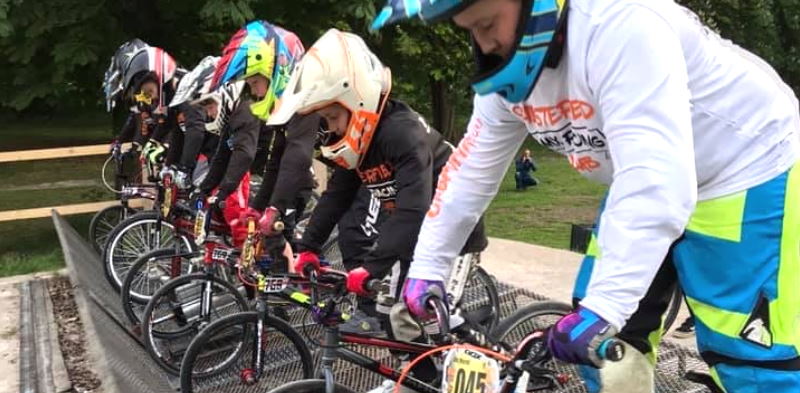 This week is #BikeWeekUK, so what better time to try BMX?
Libby Hawkins, the local co-ordinator for Beat the Street Chesterfield, is the founder of the Tuff Riders BMX School and club manager and coach for Chesterfield BMX Racing Club based at Ringwood Park in Brimington, Chesterfield. She is a development pathway coach for Team GB and also runs coaching sessions for people of all ages and abilities from beginners to international standard.
She offers her advice on how you and your children can get started with BMX:
Find your local BMX track
BMX Bicycle racing takes place on outdoor and indoor tracks throughout the country. Made from compacted dirt and tarmac, tracks are around 400-metres long and feature a large starting ramp, banked (bermed) corners and a variety of jumps including table-tops, gap jumps and rhythm sections. Visit British Cycling has a club finder to help you find your local track.
Visit your local BMX track and club – Many clubs offer bike, helmet and protective gear hire, allowing you to get a taste for the sport before making a financial commitment. At this time, many are planning a return to physically-distanced training, so get in touch or find your local club on social media to see what online resources they're currently offering.
Get the right safety gear – You'll need a full face helmet, full fingered gloves, arm and Knee Pads and soft-soled trainers to gain a good grip on the pedals. Most BMX clubs have helmets and gloves which they hire out to riders. If you do like the sport, you can get second-hand protective equipment. Make sure that the helmet is not damaged and is CE safety-approved.
Get a bicycle - Cost can very often be a barrier, so joining Facebook groups such as the ones listed below can make it so much more cost effective. Even professional riders often buy second hand parts, bikes and swap parts with other riders.
But what size BMX race bike do I get? Bike size is very important as if a bike that is too big for you, you won't have full control over it. BMX bikes come with standard 20-inch wheels but the bike frame can range in size. Here's a little height chart to help you choose the correct size bike:
| Height | Frame Size | Top Tube Length |
| --- | --- | --- |
| Under 4' | Micro Mini | 15" - 16" |
| 4' – 4'6 | Mini | 16" - 17" |
| 4'4 – 4'10 | Junior | 17" – 18.5" |
| 4'8 – 5'4 | Expert | 18.5" – 19.5" |
| 5'4 – 5'10 | Pro | 20" – 20.5" |
| 5'10 and over | Pro XL, XXL | 20.5" and over |
Attend Club Sessions– The best place to begin is your local club or track where you can get basic coaching, tips and support to get you started. Most clubs are beginning to return to weekly training with social distancing measures in place.
Have a go at racing – When you feel you are ready, you can enter a local race as a novice and your local club will be there to support you and your family. BMX racing is mainly a spring and summer sport, although most regions in the UK now run winter leagues which is an excellent way to have a go as a novice/beginner racer. Races are accessible, friendly and family-orientated, often with a number of generations taking part in the same meeting.
Libby adds: "BMX is the perfect way for anyone to start riding a bike. It provides healthy exercise while having the joy and freedom of riding and serves as a great aerobic workout. Regular BMX biking will result in better heart health and a reduced risk of cardiovascular diseases. In addition, you will enjoy better blood circulation, which means all your tissues will receive enough oxygen and therefore, function optimally."
"London 2012 promised a lasting legacy for the sport of BMX and it hasn't disappointed. New Clubs, tracks and competitions have sprung up over the country, as children and adults alike have been inspired to take to the dirt tracks."
BMX is more accessible that you might think, with clubs and tracks throughout the country offering taster and coaching sessions for riders of all ages and abilities. Bikes with as small as 12 inch frames are available for tiny tots, while the masters' age group is more popular than ever.
"BMX riders come in all shapes and sizes and all ages! Riders racing can be as young as 3 and as old as 77, being the oldest rider still competing today!"
---