How to go back to school safely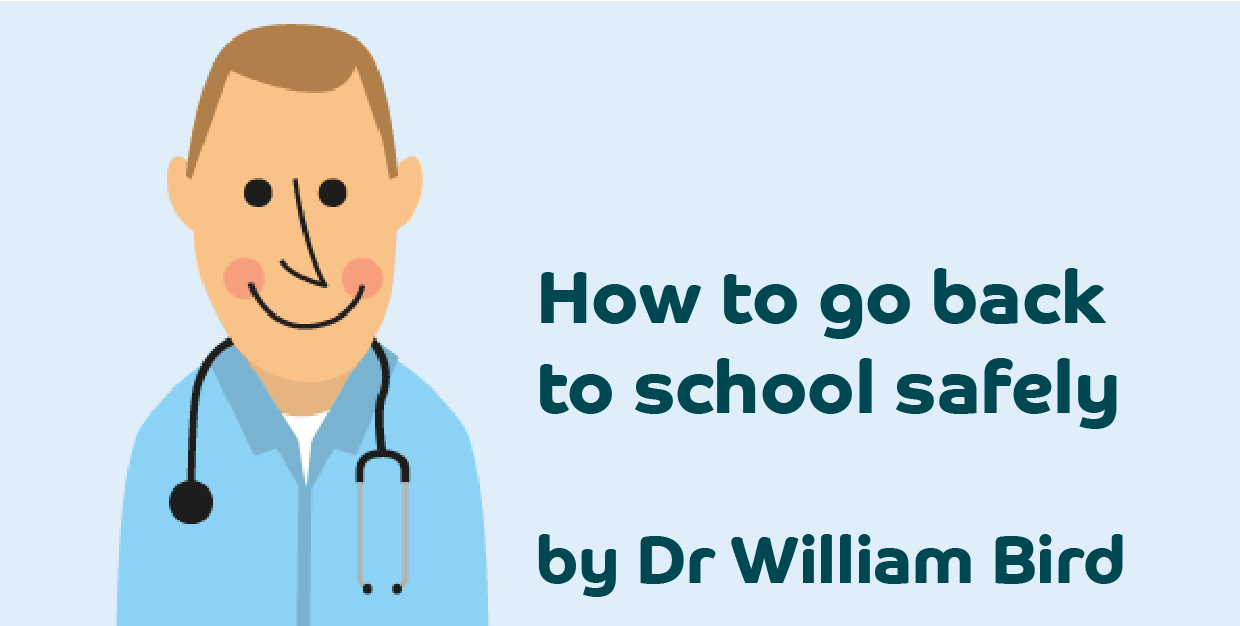 How to go back to school safely – by Dr William Bird
Unbelievably, September is upon us and many children have already returned to school – or are about to.
There may be some parents – and teachers - who are hesitant and feel it's not yet safe. Perhaps you're worried that your child may bring Covid-19 back to the house where you might have an elderly or shielding relative.
We completely understand that it's not easy for everyone to send their children back to school and hopefully we can put your mind at rest by sharing some of the recent studies into how likely children are to spread the Coronavirus, and also sharing some of the latest guidance.
The first thing to say is that children need to be at school. It goes without saying that children need to be educated. However, they also need to spend time with other children of the same age; socialisation and camaraderie is essential for primary age children for their development. Children also require a structured day and discipline, and some need the support system of school to ensure they are safe and also have enough to eat.
While there are some children that thrive at home, perhaps they are bullied at school or don't feel that they fit in and some parents are able to home school their children successfully, most children need to attend school daily. Closing schools has widened inequalities and it's those children who perhaps don't get stability at home who suffer the most by not being at school.
Research from Public Health England (PHE) shows that among the 1.6 million children who returned to school in June, just 70 tested positive, and none were hospitalised with Covid-19.
Speaking after the publication of the PHE report last week into the risk of children getting coronavirus, England's Chief Medical Officer Professor Chris Whitty, said that the government must 'balance risk' but that he believed that children were more likely to catch the virus at home than in an education setting.
Professor Whitty added: "There's some evidence that children, particularly in primary school, are actually less likely to catch COVID in the first place."
A study entitled "Clinical characteristics of children and young people admitted to hospital with covid-19 in United Kingdom: prospective multicentre observational cohort study" in the British Medical Journal (BMJ) states that in China, only 0.6% of children with covid-19 were critically ill*
Additionally, another article in the BMJ from 5th May 2020 entitled  "Children are not COVID-19 super spreaders: time to go back to school"  by Alasdair P S Munro and Saul N Faust** says: "At the current time, children do not appear to be super spreaders. Governments worldwide should allow all children back to school regardless of comorbidities.
The latest guidance for schools in England is that secondary school children who live in an area where the government has imposed a local lockdown must wear masks in areas such as corridors, but not during lessons. In Scotland, the rules state that all pupils aged 12 and over must wear face coverings in corridors, communal areas and on school buses.
For other secondary schools, the head teacher can decide whether or not to ask people to wear masks. The World Health Organisation last week issued guidance that children aged 12 and over should wear masks where possible to reduce the spread. Children aged five and under should not wear masks. Studies show that children aged five to 11 do not seem to spread the virus. There are very few cases of children getting the virus and those that do between the ages of five and 11, seem to be asymptomatic.
The guidance will be obligatory in all secondary schools, special schools and grant-aided schools in Scotland, but pupils should not be excluded from school if they do not wish to wear one. In Wales, the decision on face masks is down to each individual head teacher – however teaching unions have called for them to be made compulsory.
School staff have been busy preparing for September by carefully implementing new safety measures such as staggering start times and lessons or asking children to bring in a packed lunch which they must not share and some are asking children to wear PE kit instead of school uniform.
We believe that one of the best things you can do now is to get outdoors in a safe, socially-distanced way and to walk, cycle, run, wheel or scoot as much as possible to get fit and healthy and to ensure your immune system is in the best shape possible to fight Covid-19. Here at Intelligent Health, we are currently working with local partners in Eastbourne, Falkirk and East Renfrewshire to launch the Beat the Street physical activity initiative to help people get active and to get outdoors.
We hope this helps and please stay well.
---